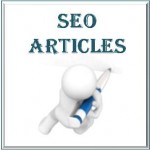 Search engines will assign you with a higher rank if they find your website to have the relevant information a user is looking for. Writing SEO articles is no rocket science provided you follow these tips.
Tip # 1: It is all about having the right keywords in your article. This does not mean you overdo it by using one keyword too many times and at the same time you should use them sparingly at just the right places.
Tip # 2: The idea of writing an SEO article is to generate traffic. For this you have to take the help of resource sites like article directories. People looking for information go to these directories and it is very likely that they will find you there.
Tip # 3: Befriend the blog world! Be a guest blogger, blog on various blog sites. Do as much writing as you can. Essentially make your presence felt with your SEO articles
Tip # 4: This tip is actually an extension of tip number three and i.e. to have a blog on your own website. This is a great way to stay in touch with your customers.
Tip # 5: Focus on your writing. The idea is to generate traffic but you don't want your readers to get a negative impression even before they visit your site. This means you should get your grammar right and phrase the sentences in a proper manner.
Tip # 6: Make the content user friendly. The reader is reading your article with a purpose and you have to give him information that will help him fulfill the purpose.
Tip # 7: Although the idea is to bring traffic to your website and then letting the readers know what you have to offer, it is always better to give the reader a brief introduction of what kind of services you deal in and how you are different from others.
Tip # 8: Don't forget to create backlinks and create an option for the readers to subscribe for RSS feeds
Tip # 9: Every article you write has to persuade the reader to take action i.e. in the context of inducing need to try out your products or services
Tip # 10: Track your articles to know how they are being received by the audiences.